PDF [159 KB]
CNC-Gauging System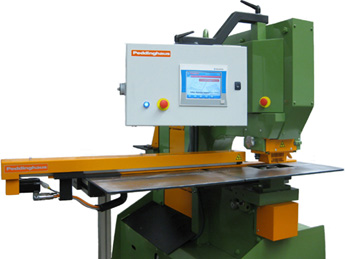 Peddimax No. 1 with
CNC gauging system 400 × 1,000mm
Ref. No. 556
for processing steel plate and angle iron
suitable for models

Gauging table complete
with slot-in front part
for processing steel plate.


The detachable front section was removed here to allow for the processing of angle iron.
The CNC gauging system 556 is supplied in sizes of 400×1,000mm and 400×2,000mm.
Mode of operation
From the centre of the tool, the gauging system can be traversed in the Y-axis up to
a distance of 400mm (depth of throat) and in the X-axis up to a distance of 1,000mm.
Guides on the l.h. and r.h. side of the measuring carriage prevent tilting.
Exact positioning is ensured by ball screw assemblies.
The motors are equipped with incremental encoder.
User-friendly versatile software featuring:

Touch screen
Data input in inch decimal or metric
Options "punching" or "centering"
Graphic display of the holes and/or hole centers, workpiece dimensions, positions of holes and hole centers as well as
process monitoring
Storage of the programs on USB memory stick
Reading from / writing to USB memory stick