The latest addition to our range of steelworkers:
Combined Section and Flat Shear
with Punch Unit
Peddibasic No. 1
400 kN
The Peddibasic No. 1 ironworker featuring a combined
section shear and punch unit is highlighted by performance,
compact design, a reliable hydraulic drive system and an
excellent price/performance ratio.
At a glance:
Flat shear blades, 310 mm wide, also suitable
for shearing angle iron 45º

Material support table on the flat bar shear

Section shear station for angle iron, rounds
and squares

Quick-change punching attachment up to Ø 31mm
(green series)

Swing-away stripper, height-adjustable, with
exchangeable stripper plate

Foot switch and electrical controls

Socket for remote tripping, e. g. electrical
contact length stop

Hydraulic power-pack with a charge of fluid

Three-phase motor
For detailed information, please refer to the data sheet.


PDF [66 KB]
If you require further information, please dial +49 (0) 2332 6646 0.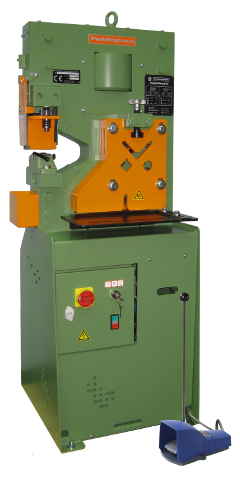 Peddibasic No. 1
universal for the processing of
section and flat steel