Plate and Round Steel Shears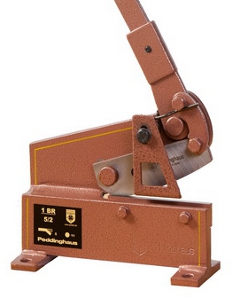 1 BR
Technical Data
Model

1 BR 4 / 2

1 BR 5 / 2

1 BR 6 / 3

part no.

20127

20128

20129

plate

up to mm

4

5

6

rounds

up to mm

10

11

13

blade length

mm

120

150

180

net weight

kg

10.5

12

19

top blade

part no.

20027 5 1000

20028 5 1000

20029 5 1000

bottom blade

part no.

20027 5 1001

20028 5 1001

20029 5 1001
All capacities refer to material with a tensile strength of 450 N/mm2.
We reserve the right to make design alterations without notice.
Proven range of machines available in three sizes.
Rugged machine frame

Blades of high grade tool steel, hardened and ground

Ergonomic cutting geometry

Infinitely adjustable hold-down

Hand lever with safety spring
The operator has a clear view over the full blade length enabling work to be performed on layouted plate.